Though the police announced that 1,000 nazis will rally in Berlin on November 9, their organizers say the number will be ten times higher. Some state authorities considered banning the march of 10,000 nazis, though police reaction to them is tolerant when considered the brutality cops show towards antifascists. The explanation for this is that cops and the nazis share the same policies towards immigrants, who are the main targets of the nazis' rallies, planned on November 9 in Berlin and November 15 in Berlin and Hamburg. The fascist The Right party announced they will participate in Hamburg on November 15. CDU deputy and AFD member announced they will join the neo-nazis the at a rally in Thuringia, to take place also on November 9. 
Nazis made more threats towards antifascists, who continue to identify and expose their organizers, those who support them and their tactics. The nazis use ISIL extremists to recruit and promote their ideology for "white Europe". They claim they are "apolitical", a propaganda tactic to hide their real intentions and gather more public support. Some mainstream media subscribe to calling them just "hooligans" and cover up the ideology they promote. Indeed, what could be more apolitical than this:
Some of the nazis who plan "to storm" Berlin 
On November 9 the nazis plan a pre-gathering, before the official demonstration takes place. One of the main organisers of the Berlin rally on November 9 is a well known fascist, Steven Koek. Here's a video with him, where he also does the Hitler salute which is banned in Germany.
This is another organizer, Exile Laing, he supports the fascist party The Right, AfD, NPD, German Defence League, Wehrmacht, home in the Empire etc:
This is Nicole K: NPD, anti- foreigners; and promoted the fascist Third Position.
Here it is David W: he supports migrants be deported, fan of German Defence League, Chemnitz, he says, "I am Nazi and not a patriot":
This is Steven M.: NPD Saxony, RTL News (is perhaps not right, but similar stupid):
This is Michael H: dentitary movement, Pro NRW, AfD, FPÖ, marine Le Pen, German Defence League.
Danny K. is NPD, against asylum, Wehrmacht, Teutonic Braves:
These are the "concerned, non-political citizens" of "HoGeSa" and just a look at their political positions indicates this "apolitical" movement is actually deeply fascist. Some christians are regarded as heroes when they say in their groups, "people get up and storm break off!"- this is an original word by word quote from Joseph Göbbels, who initiated the "total war". Nearly all people in their group liked it.
Another participant, Pascal, posted "on the 9 November storm the Bundestag". Random date? Unlikely. It is the date of the Reichskristallnacht in 1938 in which mass synagogues were set on fire and Jews were massacred in what signaled the official beginning of the state policy of extermination of Jews.
Other "apolitical" positions from "concerned citizens": "Ich will Hitler zurück! Aber ich bin kein Nazi!!!!!!" #nohogesa
#Nohogesa #Hamburg call of fascists  for the internal organization at #hogesa (donation accounts for lawyers, organisations etc.)
Cologne, more nazis identified 
Via Antifa Recherche
"Among those who participated at the rally in Cologne on October 26, antifascists identified some as being part of SS "Sigi" and the "Borussenfront" Nazi hooligans from Kaiserslautern, Berlin, Braunschweig, Bochum, Bremen, Aachen, Poland, Lazio Rome, from the Netherlands and Belgium. Also present were the old guard of the "Lion Hamburg", parts of "White Wolves Terror Crew", "End stage crew Bremen", "AG Weser mountain country," Identitarian Movement "," Free network Hesse ", "German Defence League", numerous neo-Nazi skinheads and also rockers, members of extreme right parties, such as NPD, The Right, "The third way" and the AFD. "HoGeSa" has emerged as an alliance of the neo-Nazis, nationalists, racists, right-wing football fans and hooligans, diffusing their hatred freely."
Who is behind "HoGeSa"?
"Contrary to the analysis of the constitutional protection there is very probably a kind of organizational structure "HoGeSa". Throughout Germany, the individual areas are divided in North, East, South and West. In charge of "HoGeSa" are the Regional Manager West Freestyle Andreas and his deputy Dominik Roeseler of "ProNRW". In "closed" Facebook groups and other spaces, organizational matters are coordinated, for the most part but only racist and Nazi-glorifying images, neo-Nazi music and slogans are shared. In addition to the propaganda against Islam and all Muslims, especially anti-fascists and the media are identified as the main enemy. Many contributions urged violence against them."
"Each region has its Regional Director and one alternate. The northern group includes Schleswig Holstein, Hamburg, Lower Saxony and Bremen. In the northern group is "CaptainFlubber" from the Bremen Regional Manager. The neo is organized at the "privateers Bremen" and has close contacts with other neo-Nazis, as well as to the band "Category C" and the "Farge Ultras". His deputy is the well-known neo-Nazi Christian Sternberg from Lüneburg. Sternberg is operational since 2009 the neo-Nazi Laden "Hate Core Lüneburg" and is currently responsible for the merchandise like stickers and clothing "HoGesa" -North. Next support is the northern group of Sven Reichert from Bargstedt, which can be found as early as 2006 on the list of NPD for the council. At that time he was with Heike Dammann and still holds good contacts with neo-Nazis in Hamburg.
There are "Whatsapp" groups for almost all cities. Benjamin "Benny" Kruger directs the group for the North. Furthermore, there is a treasurer for each region. In the northern region "Svener Potas" from Rostock is responsible.
Hamburg
In Hamburg is planned a demonstration of the "HoGeSa" by Benjamin Kruger for November 15. First, the demo of the star jump was logged in to the main train station; 5,000 participants are expected. The locations of the start and the march route are certainly not chosen by chance, but must as a provocation against antifascists, Lampedusa refugees and migrant-dominated community in Hamburg. A few weeks ago, heavily armed IS-trailers attacked several people in front of the Kurdish center near the central station. Since then, some politicians and neo-Nazis exploit this attack for racist incitement and increasingly demanding repressive measures.
Even if police ban the demonstration, the neo-Nazis will still come to Hamburg on November 15. Already now, neo-Nazis from all over Germany and from other countries announced they will come, same did the NPD Hamburg and the extreme right-wing band "Category C".
Touted have next to right football fans (including neo-Nazi hooligans and groups from Braunschweig, Leipzig and fans of FC Schalke 04) and fellowships as "Ag Weser mountain country", "Ag North Heath", the "White Wolves Terror Crew" (WWT- Hamburg, East and "Helvetia ")," Brigade 8 "and fraternity, on supporters of" identitarian movement ", neo-Nazi skinheads and groupings such as" skinheads Uelzen "," Blood & Honour "Netherlands. Furthermore, are to be expected all members of extreme right-wing parties like the NPD, The Right and "The third way", as well as the right-wing populist party AFD.
On social networks, the neo-nazis they make hundreds of calls to violence; they want to destroy the asylum accommodation social center Rote Flora and other left-wing organizations, and fantasize to take "Antifa to be beheaded".
Standarte Bremen
Benjamin Krüger 
Christian Sternberg und Benjamin Krüger 
Captain Flubber – Download
Freibeuter Bremen(rechts Captain Flubber)
Svener Potas
Sven Reichert (rechts) 
Hannes Ostendorf u.a.
Thorsten de Vries
Henrik Ostendorf 
Angriff 
1.FCK Rot-Front Hooligans Ralf Schütthelm 
Die Rechte Dortmund (rechts Christoph Drewer) 
Villain051 a.k.a. Patrick Killat und Liedermacherin Karin Mundt 
Endstufe Crew u.a. 
IB Ordner, Die Rechte 
Tobias Mülder (IB) 
Hitlergruß für die Presse 
Sebastian Reisdorf (WWT) u.a. 
Source  
Andreas Schacht was also present at Cologne; this neo-nazi from "Cultura Germanica" has planned for November 6 a demonstration against the refugees in Hamburg.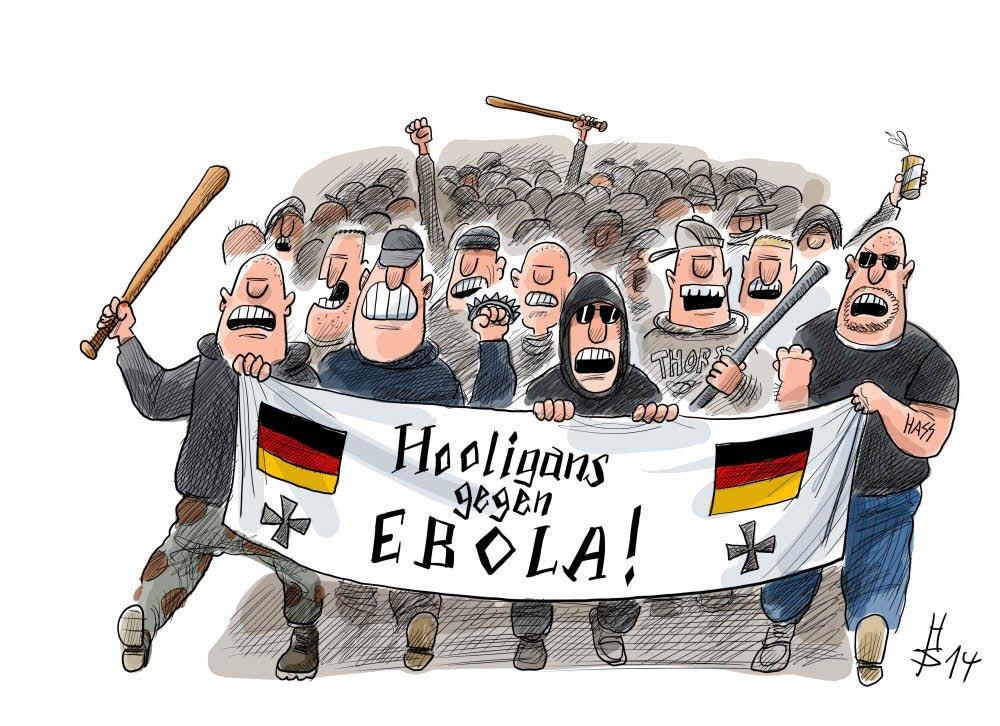 Meanwhile, an ultra rights group from Lok Leipzig has dissolved.